Invite Lobster to Thanksgiving!
I saw this headline in the news (
ANNAPOLIS, Md. — Maryland public school students are free to thank anyone they want while learning about the 17th century celebration of Thanksgiving — as long as it's not God.
) , and knew I just had to read the story and set the record straight. So, I started to do some research on the true history of Thanksgiving. I was in search of information about how and why we celebrate Thanksgiving as a National Holiday. I fully expected to find a sweet story about Pilgrims and Indians, feasting on turkey, and giving thanks to the Lord for their abundance in harvest. A mental picture of Native Americans and Pioneers joining hands and singing cumbaya emerged in my head. What I found, will forever change the way we celebrate Thanksgiving in my home.
The first thing I did was pull out my
"cyber" dictionary
and define the word:
thanks·giv·ing
(th ngks-g v ng) (Holiday, Religion) n.
1. An act of giving thanks; an expression of gratitude, especially to God: a hymn of thanksgiving.
2. Thanksgiving Thanksgiving Day.
Then I
defined Thanksgiving
again:
Main Entry: thanks·giv·ing
Pronunciation: the[ng](k)s-'gi-vi[ng] also 'tha[ng](k)s-"Function: noun1 : the act of giving
thanks
2 : a prayer expressing gratitude3 a : a public acknowledgment or celebration of divine goodness b capitalized :
THANKSGIVING DAY
Then, of course, I defined Thanksgiving Day (see above link in all capitals):
Main Entry: Thanksgiving DayFunction: noun: a day appointed for giving thanks for divine goodness: as a : the fourth Thursday in November observed as a legal holiday in the U.S. b : the second Monday in October observed as a legal holiday in Canada
Once I was done with this, I was off to the history. I found this article written by
Richard J. Marbury
. I had heard about this last year from
Glenn Beck
, not this particular article, but the actual content of the article which describes how the Pilgrims were celebrating more than the crops. They were celebrating the success of how putting capitalism into practice over socialism, had actually saved lives and brought them prosperity.
I will explain. The very first Thanksgiving Day feast, held in 1621, was actually a traditional English harvest celebration. They invited the Indians to join them since it was the Indians who had taught them how to plant crops and hunt. It was not called Thanksgiving Day at this time. This was actually a meal that would lead them into a harsh winter. They had lost 46 Pilgrims, out of the original 102, after that first winter (they had landed on Plymouth Rock on December 11, 1620). The Governor of their colony, William Bradford, was very harsh in his "History of Plymouth Plantation," sighting that the colonists went hungry for years, because they refused to work in the fields. He shared that they often stole food and that the colony was riddled with "corruption," and with "confusion and discontent." The crops were small because "much was stolen both by night and day, before it became scarce eatable." Bradford tells us that "they began to think how they might raise as much corn as they could, and obtain a better crop." They began to question their form of economics.
They had been required to submit all profits & benefits gained by trade, working, fishing, or any other means into the "common stock" and in return, all needs were provided by this "common stock." Viola! An early state of socialism. Bradford wrote "young men that are most able and fit for labor and service" didn't like being forced to "spend their time and strength to work for other men's wives and children." Hence, they did not work very hard, and very little food was produced. This lead to the conditions described above.
Bradford decided to change the rules of governing and gave each household their own piece of land and told them they could keep what they produced, or trade it with others and keep their profits. This was the birth of Capitalism in America. It worked! Bradford, pleased with the results, noticed that "instead of famine now God gave them plenty." He also wrote, "the face of things was changed, to the rejoicing of the hearts of many, for which they blessed God." In fact, in 1624, so much food was produced that the colonists were able to begin exporting corn.
This is Governor William Bradford's Thanksgiving Proclamation:
Inasmuch as the great Father has given us this year an abundant harvest of Indian corn, wheat, peas, beans, squashes, and garden vegetables, and has made the forests to abound with game and the sea with fish and clams, and inasmuch as he has protected us from the ravages of the savages, has spared us from pestilence and disease, has granted us freedom to worship God according to the dictates of our own conscience.
Now I, your magistrate, do proclaim that all ye Pilgrims, with your wives and ye little ones, do gather at ye meeting house, on ye hill, between the hours of 9 and 12 in the day time, on Thursday, November 29th, of the year of our Lord one thousand six hundred and twenty-three and the third year since ye Pilgrims landed on ye Pilgrim Rock, there to listen to ye pastor and render thanksgiving to ye Almighty God for all His blessings.
On October 3, 1789, George Washington gave this proclamation:
WHEREAS, It is the duty of all nations to acknowledge the providence of Almighty God, to obey His will, to be grateful for His benefits, and humbly to implore His protection and favor;
WHEREAS, Both the houses of Congress have, by their joint committee, requested me "to recommend to the people of the United States a day of public thanksgiving and prayer, to be observed by acknowledging with grateful hearts the many and signal favors of Almighty God, especially by affording them an opportunity peaceably to establish a form of government for their safety and happiness:"
Now, therefore, I do recommend and assign Thursday, the 26th day of November next, to be devoted by the people of these States to the service of that great and glorious Being who is the beneficent author of all the good that was, that is, or that will be; that we may then all unite in rendering unto Him our sincere and humble thanks for His kind care and protection of the people of this country previous to their becoming a nation; for the signal and manifold mercies and the favorable interpositions of His providence in the course and conclusion of the late war; for the great degree of tranquility, union, and plenty which we have since enjoyed; for the peaceable and rational manner in which we have been enable to establish constitutions of government for our safety and happiness, and particularly the national one now lately instituted' for the civil and religious liberty with which we are blessed, and the means we have of acquiring and diffusing useful knowledge; and, in general, for all the great and various favors which He has been pleased to confer upon us.
And also that we may then unite in most humbly offering our prayers and supplications to the great Lord and Ruler of Nations and beseech Him to pardon our national and other transgressions; to enable us all, whether in public or private stations, to perform our several and relative duties properly and punctually; to render our National Government a blessing to all the people by constantly being a Government of wise, just, and constitutional laws, discreetly and faithfully executed and obeyed; to protect and guide all sovereigns and nations (especially such as have show kindness to us), and to bless them with good governments, peace, and concord; to promote the knowledge and practice of true religion and virtue, and the increase of science among them and us; and, generally to grant unto all mankind such a degree of temporal prosperity as He alone knows to be best.
Thanksgiving day was celebrated in the United States on different days in different states until Mrs. Sarah Josepha Hale, editor of 'Godey's Lady's Book,' made it her personal mission to make Thanksgiving Day a National Holiday. For more than 30 years she wrote letters to the governors and presidents asking them to do just that. New York State adopted Thanksgiving Day as an annual custom in 1817, and many other states followed suit. But in 1863, with the country greatly divided over the issue of slavery, President Abraham Lincoln saw an opportunity to help unite all of America. This is his Thanksgiving Day proclamation:
The year that is drawing towards its close, has been filled with the blessings of fruitful fields and healthful skies. To these bounties, which are so constantly enjoyed that we are prone to forget the source from which they come, others have been added, which are of so extraordinary a nature, that they cannot fail to penetrate and soften even the heart which is habitually insensible to the ever watchful providence of Almighty God. In the midst of a civil war of unequaled magnitude and severity, which has sometimes seemed to foreign States to invite and to provoke their aggression, peace has been preserved with all nations, order has been maintained, the laws have been respected and obeyed, and harmony has prevailed everywhere except in the theatre of military conflict; while that theatre has been greatly contracted by the advancing armies and navies of the Union. Needful diversions of wealth and of strength from the fields of peaceful industry to the national defence, have not arrested the plough, the shuttle or the ship; the axe has enlarged the borders of our settlements, and the mines, as well of iron and coal as of the precious metals, have yielded even more abundantly than heretofore. Population has steadily increased, notwithstanding the waste that has been made in the camp, the siege and the battle-field; and the country, rejoicing in the consciousness of augmented strength and vigor, is permitted to expect continuance of years with large increase of freedom.
No human counsel hath devised nor hath any mortal hand worked out these great things. They are the gracious gifts of the Most High God, who, while dealing with us in anger for our sins, hath nevertheless remembered mercy. It has seemed to me fit and proper that they should be solemnly, reverently and gratefully acknowledged as with one heart and one voice by the whole American People.
I do therefore invite my fellow citizens in every part of the United States, and also those who are at sea and those who are sojourning in foreign lands, to set apart and observe the last Thursday of November next, as a day of Thanksgiving and Praise to our beneficent Father who dwelleth in the Heavens. And I recommend to them that while offering up the ascriptions justly due to Him for such singular deliverances and blessings, they do also, with humble penitence for our national perverseness and disobedience, commend to His tender care all those who have become widows, orphans, mourners or sufferers in the lamentable civil strife in which we are unavoidably engaged, and fervently implore the interposition of the Almighty Hand to heal the wounds of the nation and to restore it as soon as may be consistent with the Divine purposes to the full enjoyment of peace, harmony, tranquillity and Union.
In testimony whereof, I have hereunto set my hand and caused the Seal of the United States to be affixed.
Done at the City of Washington, this Third day of October, in the year of our Lord one thousand eight hundred and sixty-three, and of the Independence of the Unites States the Eighty-eighth.
In 1941, President Franklin D. Roosevelt changed Thanksgiving Day to the fourth Thursday.
I rest assured in my original belief that God is most definitely an integral part of the history of Thanksgiving Day, and it was founded on the practice of giving thanks to Him, the Almighty. Teaching our children about Thanksgiving, and it's meaning, I believe leaves us many things to cover.
I will still celebrate this holiday by surrounding myself with family and loved ones. I will still bow my head in prayers of thanks to the almighty God and creator. I will still go around the table, asking all who have blessed me enough to join me, and ask them to share what they are thankful for. What I will add, is the story of that colony at Plymouth Rock. The story of how William Bradford implemented capitalism, and how God blessed it, and saved them from starvation and corruption. I will add a reading of the proclamations of William Bradford, George Washington, and Abraham Lincoln. I will also add how profound it is that, in 1863, America was divided and at war. Here we are, 141 years later, so much in common with our ancestors then. We will thank our God for the strength, determination, and conviction of not only Abraham Lincoln, but of George W. Bush. If you are having dinner today with family that is divided, or people torn over this war. Please share with them this story. Today is about UNITY. Today is about being the most blessed nation in history. Today, we give thanks to God.
Love him or hate him, he is our President, and he loves America and the freedom we are divinely granted to have.
Remember our brave men and women in harms way across seas and their families left behind. Be thankful for them.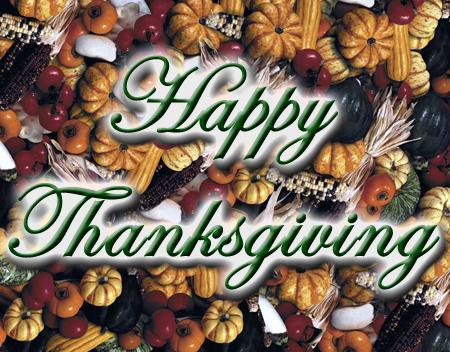 Oh yeah! And don't forget the Lobster! Did you know that the Pilgrims had Lobster at their Thanksgiving? God, I love America!