National Day of Prayer! Make it SPECIAL!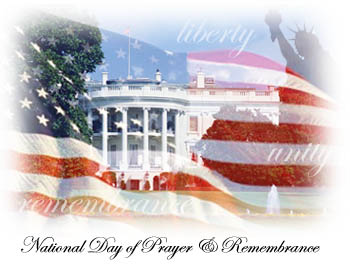 In 1952, a joint resolution by Congress, signed by President Truman, declared an annual, national day of prayer. In 1988, the law was amended and signed by President Reagan, permanently setting the day as the first Thursday of every May. (Use link to read more on the History of this national holiday)





In our home, this has become a SPECIAL DAY. Our family tradition is to spend the day together as a family. In our town, we gather at city hall for prayer and music. We enjoy coming together to hold up our country and its leaders. We have wonderfully talented singers and musicians, and are very blessed with Godly leaders leading us in prayer.

Last year after the event we walked around the corner to a sandwich shop and all shared a banana split. I have a feeling they will expect the same thing this year! My daughters got a kick out of what happened the following day. I got a phone call VERY early in the morning from my Mayor. He asked me if I had seen the paper yet today, and if not- I had better get one. I gathered the kids up for school and on the way we stopped to pick up a paper. We found this on the front page:








Time for Reflection



Friday, May 7, 2004 4:00 AM EDT

Above: Sherri Reese of Acworth, center, bows her head in prayer with her daughters, Jessica, 3, left, and Alex, 5, during the city of Acworth's observance of the National Day of Prayer at City Hall on Thursday afternoon.

Needless to say, we bought a FEW papers (about 10!) and my daughters each took one to school to show their friends. I encourage all of you to not only take out some time today for prayer for our country, but find an event and take your family. Or just gather the family and MAKE your own event! But make this day SPECIAL! Make this day a family tradition that your children will remember fondly. Work and school will be there tomorrow!