FREEDOM IS AN ACHE IN THE HEART
For optimum viewing pleasure, Sherri recommends that you open two windows and go to this link. Listen to
Proud to Be an American
as you enjoy the pictures!!!

FREEDOM

Freedom is courage conquering despair
It is the swell of hope that rises in each breath.


Be not wary of a race, a religion, or a uniform
Know the enemy by what scares him.

Freedom is what we are willing to die for
It is what the enemy fears most.
Words could never fully express the MAGIC and GLORY of today, so here are some images instead.
The next two photos are brought to you by mich-again from LGF! Thank you mich-again!!!


These are just a few I found on the web- ENJOY!!!!
Iraqi American voting in the US: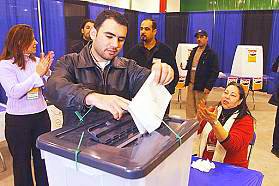 '

Iraqi voting in Australia!

Long Lines!!!!!



More voting!

MY FAVORITE!! Tears of joy from a WOMAN VOTING IN IRAQ!!!!!!!!!!!

PROUD TO BE AN AMERICAN!!!!!!!!!!!!!!!!!!!