The Massacre of Innocents!
Hat tip: Tom (he referenced this article by Michelle Malkin)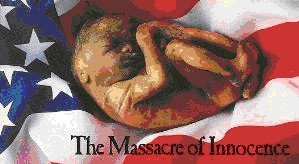 And the Massacre of Innocents!
Legislation Seeking to Criminalize Ultrasounds without Doctor's Order Moves in Springfield


Wednesday, April 06, 2005

By
The Leader-Springfield Bureau



SPRINGFIELD -- Pro-abortion forces won a victory in the Illinois House Wednesday as State Rep. Rosemary Mulligan (R-Park Ridge) successfully passed HB 2492 which would make it a criminal offense for an ultrasound to be administered without a doctor's order.
YES, you heard that right. A CRIMINAL OFFENSE!

Mulligan said that Planned Parenthood and the Illinois State Medical Society encouraged her to sponsor the legislation because there was a concern about long exposure of fetuses to ultrasound waves.

"There's a new little industry that does ultrasound videos on babies before they're born for entertainment purposes," the Cook County legislator told her colleagues. "There is concern about the neurological development with long exposure."
YEAH, right, uhuh......sure that is the concern....

When asked by State Rep. Randy Hultgren (R-Wheaton) whether or not it would effect crisis pregnancy centers who have recently begun doing ultrasounds on women considering abortion, Mulligan said she wasn't familiar with the practice in those agencies, and deferred a clear response.

"I am assuming those agencies have doctor's orders to perform the ultrasounds, so I don't know whether this would change their policies or not," she responded.
DON'T KNOW? YES YOU DO
!

Mulligan, who is a strong abortion advocate, said that an ultrasound should not be done for political reasons to make anyone change their minds about any particular purpose.
POLITICAL REASONS? Like PLANNED PARENTHOOD Lobbying for this was really about concern for the child? My understanding is that PLANNED PARENTHHOD doesn't provide any help in ACTUALLY PLANNING FOR PARENTHOOD. When Planned Parenthood is involved, you bet it is PURE POLITICS!
Hultgren called the proposal "disconcerting" that the bill was being promoted as a minor bill. "This is very serious," Hultgren said. "I encourage everyone to vote no. A person shouldn't be charged as a criminal for doing a two minute ultrasound on an expectant woman."

AMEN!

State Rep. Coreen Gordon (D-Kankakee) asked for specific studies indicating the harm an unborn baby would face for prolonged exposure to ultrasound.

Mulligan said that the Federal Drug Administration had warned that muscle and nerve development could be affected by long exposure.

"We should be concerned about the long term health of the fetus," Mulligan, who has voted against a ban on partial birth abortion, said.

The bill passed with bi-partisan support with 76 yes votes and 32 no votes.

Six voted present.

The legislation would make it a Class A misdemeanor for an ultrasound to be performed without a doctor's orders.

It now moves to the Illinois Senate, where it will go through committee before a floor vote.



Planned Parenthoods idea of family planning is educating kids about their sexuality!
Some other images that Planned Parenthood DOESN'T WANT YOU TO SEE!

WARNING: THESE IMAGES ARE VERY UPSETTING!


Baby Malachi
21 week old clings to Doctor's finger from inside mother's womb!
I have NO WORDS for this one
Is this NOT a human being?
Partial Birth Abortion
Another Pro-Choice VICTIM!
VERY UPSETTING!
11th week
THIS IS HOW CONCERNED PLANNED PARENTHOOD IS FOR THESE LIVES!
For more on Planned parenthood, see THIS:
The Most Merciful Thing That the Large Family Does to One of its Infant Members is to Kill It
TIM at
Pro Life Blogs
has more on this!